All energy market entities operating in Poland will have to join CSIRE, which will require a considerable transformation of internal organizational and technical processes. In this article, we will introduce the principles of CSIRE and explain what its introduction means for Polish energy operators, suppliers and consumers.
CSIRE and OIRE – The most important information
The implementation and management of CSIRE is the responsibility of OIRE (energy market information operator), whose function was entrusted to PSE (Polskie Sieci Elektroenergetyczne).
According to the schedule announced in the act, CSIRE will start operating in July 2024. Until then, all energy market entities must prepare their IT systems and processes for connection to the central system and perform initial data migration. These entities are TSO (transmission system operator, ie Polskie Sieci Elektroenergetyczne), DSO (distribution system operators), BRP (balance responsible parties), ES (energy sellers) and PCS (public charging stations).
Some of the possibilities enabled by CSIRE will be:
switching to a different electricity supplier in a quick and transparent way for the consumer,
access to individual data on the energy consumption of a given consumer via an online user panel,
making settlements for the sale and supply of energy,
demand side response (DSR) and balancing of power grid supply
standardization and improvement of energy market processes and information flow between its participants.
The processed information will be made available by OIRE to the appropriate extent to relevant authorized entities, including end users, energy prosumers, retailers and operators. They will also be made available to the public in an aggregated form and in an appropriate form to regulatory entities (e.g. ERO) to the extent necessary to resolve cases.
Why was CSIRE introduced?
The introduction of CSIRE and the transformation of digital energy grid metering in Poland is the result of consultations with key representatives of the retail electricity market, which started in 2014. It is also part of the process to adapt the Polish energy market to EU requirements (imposed on Member States in Article 23 of Directive 2019/944 of the European Parliament and of the Council of 5 June 2019 on common rules for the internal electricity market).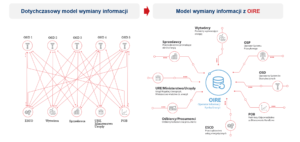 CSIRE will standarise and centralise the exchange of information circulating in the Polish energy market. [Source: PSE]
New functionalities
Digital transformation of the retail energy market in Poland actually started with the possibility of installing smart energy meters for individual and business customers (in practice from around 2010). Combined with the implementation of CSIRE and the amendment to the energy law, participants in the energy market will have new technical possibilities:
Introduction of dynamic tariffs and energy consumption billing in 15-minute intervals. Currently, there are only four billing intervals per 24 hour period.
Pre-paid billing management for AMR (Automatic Meter Reading).
All energy consumers and prosumers will be able to verify their individual consumption in 15-minute intervals.
The main benefits of CSIRE
In accordance with the draft amendment to the energy law and its intention, the introduction of CSIRE should improve the functioning of the energy market for all stakeholders:
Consumers will have access to metric profiles, thanks to which they will make informed choices of their energy supplier, while suppliers will be able to create a personalized offer for them based on this data, provided with the consumer's consent. Eventually, switching the energy supplier is to take 24 hours.
The energy market will function more efficiently and transparently. The entry barrier for new service providers will be lowered thanks to uniform and clear standards and procedures, as well as easier access to data on energy production and consumption, both on individual and aggregated level.
The National Power System and Power System Operators will benefit from the improved quality of measurement data of a uniform standard. Better-quality data analyzed more frequently will allow for a more effective adjustment of energy consumption to its production, in particular from RES.
In the new system, market information such as the price of energy and energy delivery services will be available to all those concerned – including consumers. This will improve transparency and competitiveness of the market. Additionally, aggregated data from CSIRE will be publicly available to researchers, media, officials and the general publict.
The introduction of CSIRE will improve the management of production, balancing and distribution of electricity in the Polish grid, which on the large scale gives an opportunity to reduce the consumption of fossil fuels. New improvements for energy from renewable sources will also be implemented, in particular for its prosumers.
Joining CSIRE – what do energy companies have to do?
CSIRE will be created by OIRE (i.e. PSE) and implemented with the participation of contractors selected in 2022 through a public tender. Joining CSIRE will be obligatory for energy market participants.
All the energy companies will have to adapt their IT infrastructure – including metering, billing and network systems – to the requirements that will be published in the IRiESP-OIRE (Transmission Network Code) by the end of 2022. Currently, the document is in consultation with market participants and the list of requirements may change, but it is known that market participants will have to take the following steps:
Sign a confidentiality and personal data transfer agreement with OIRE and migrate the initial data according to the migration data model between March 1 and November 30, 2023.
Adjust the communication of corporate IT systems with OIRE to the technical requirements, data security standards and data format presented in the Information Exchange Standards and Technical Standards for Business Communication.
Successfully pass tests verifying the compatibility of the company's systems with the CSIRE requirements.
How to prepare the IT systems for CSIRE
Organizing enterpriseenergy data management systems is the most difficult step in the preparation process for joining CSIRE. Energy companies often use several more or less integrated IT systems, with the data required by CSIRE scattered across them.
To be able to complete this data, a company needs to either execute a thorough reorganization and unification of its data ecosystem, or to integrate each subsystem with an API interface for communication between the energy company and OIRE.
For the latter option, energy market participants can take advantage of a comprehensive solution such as Savangard's GreenAPI, which provides:
compliance with technical and security requirements of CSIRE,
automatic communication with the central system, compliant with required standards,
full PPE directory,
a platform for managing and analyzing data on PPE from any sources of the IT ecosystem,
full process integration and the support of consultants in adjusting the company data ecosystem.
Using the described solution will provide the energy company with safe communication with OIRE, without the need for a complex reorganisation of its IT systems or additional work related to ensuring CSIRE standards or required security levels. This implementation of CSIRE requirements can also serve as an opportunity to organize the company's data domain systems and business processes with support of Savangard specialists.
CSIRE implementation – what's next?
Until the end of 2022, consultations with energy market participants will continue around the official technical standards and formal requirements that will apply to them as part of the introduction of CSIRE. Until then, the most important step is inventory and preparation of the company's data ecosystem and business processes. Although the complete list of technical requirements for CSIRE has not yet been published, it is already known what standard will be implemented (including ebIX®, AS4), which gives IT specialists experienced in the energy market enough information to start preparations.
CSIRE implementation timeline – the most important dates
The detailed implementation plan for CSIRE can be found on the OIRE website. The following dates are particularly important for energy market participants:
until 31/12/2022 – Publication of technical and formal requirements to be met by information systems cooperating with CSIRE
until 01/03/2023 – Start of initial data migration to CSIRE.
until 31/12/2023 – Preparation of IT systems dedicated to cooperation with CSIRE by entities obliged to implement energy market processes through CSIRE
from 02/01/2024 to 03/04/2024 – Conclusion of an agreement with OIRE.
from 01/01/2024 to 30/06/2024 – Launch of CSIRE, including SAT tests.
from 01/04/2024 to 30/06/2024 – Connecting IT systems of professional users to CSIRE and final migration of initial data.
01/07/2024 – production launch of CSIRE.
The most important documents